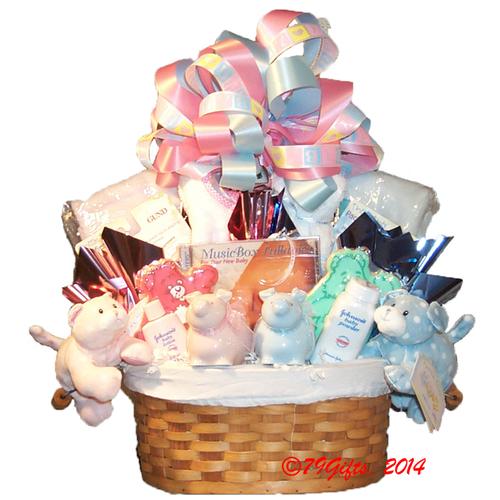 "Creative, responsive, pragmatic, price-sensitive, results-driven, unflappable. And a delight to work with. These are a lot of superlatives to describe any one person, but emphatically earned by Lise and her team at BasketWorks. Lise has crafted custom holiday baskets for my clients for a number of years and I cannot recommend her highly enough. Each year she outdoes herself. And she inevitably makes me look good. What more can you ask for?
Andrew S. Jacobs,CFP, Principal & Financial Advisor
Bernstein Private Wealth Management"
Twice as Nice Baby Basket
Twins means twice as many joys and twice as many needs. This double duty basket sends two of the important newborn items - bibs, blankets, rattles and banks. Also included are a single lullaby cd, board book, picture frame, and coffee for mom and dad. Allow us to select the perfect mix.

As Pictured: $150.00
---
Add something extra to make this gift more special!