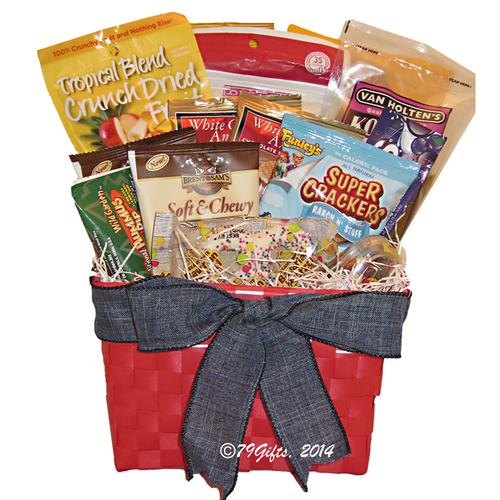 "We love the detail that goes into each basket arrangement. It's a great way to thank our clients for their business. Lise and her team have been wonderful and go out of their way to accommodate our requirements.
H.T. Night Light Inc"
Skinny Snacker
A question we hear almost everyday - how can I send treats to someone who is watching their weight? You want to send something nice that they will enjoy, but you don't want to derail their dietary efforts.

We are proud to introduce the Skinny Snacker. Every single package in this basket is 170 calories or less. We may include such goodies as cookies, dried fruit, popcorn, hummus, pickles - even chocolate and jelly bellys! Allow us to select the perfect assortment - all respecting calorie count.

As Pictured: $40.00
---
Add something extra to make this gift more special!