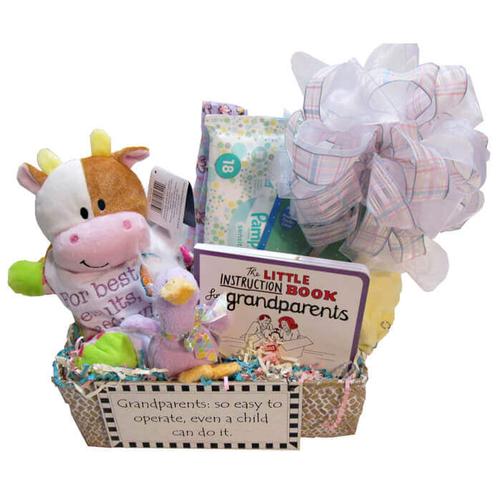 "As a residential realtor, showing my clients how much I appreciate them is So important to growing my business. BasketWorks has enabled me to be both creative and responsive. Lise and her team are extremely talented and produce amazing, awe inspiring gifts. Whether it's a small pop by, or a large thank you, Lise provides a fantastic option in a timely manner. Thanks to BasketWorks I can really let my clients know how very precious they are to me.
Betsy Phillips, Licensed REALTOR® Baird and Warner, Glenbrook "
Grandparent's Pride & Joy
New grandparents need almost as much stuff as new parents. We include the book "Always Have Popsicles" and the sign "Grandparents, so easy to operate, a child can do it." We prepare them for that first babysitting job with baby care products, plush rattle, onesie and other related baby paraphernalia. Larger baskets may include board books, additional baby care items, bib, frame or lullaby cd.
As Pictured: $40.00
---
Add something extra to make this gift more special!