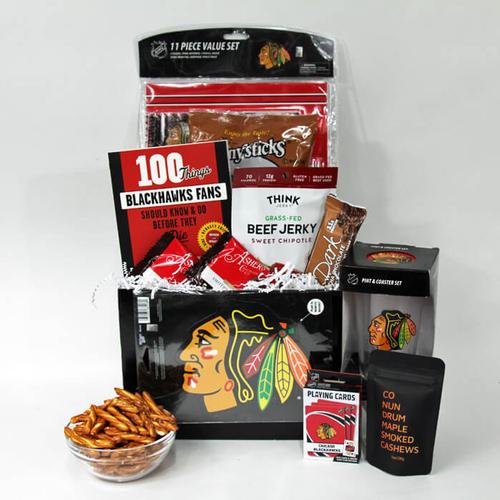 "I highly recommend BasketWorks! I ordered one with a Cubs/Baseball theme. It made a huge splash and Lise went out of her way to get it done for me and she did it with a smile! BasketWorks has stuff for just about any occasion and I will definitely be back.
Jim H, Glenview "
Blackhawks Power Play
With a six month long regular season and almost two months of post-season play, the Chicago Blackhawks are a year round favorite. Our Blackhawks cooler is filled with products to make the most dedicated fan happy. We start with a 6 can cooler and fill it with Blackhawksparaphanelia and snacks for the full season!
Blackhawks travel mug
Blackhawks cup koozie
Blackhawks frosted krispie treat
100 Things Every Blackhawks Fan should Know
Gary Poppins popcorn
Goose Island Root beer
Pretzels
Theater box size of candy
Cocoa
Beef jerky
Pretzels

As Pictured: $100.00
---
Add something extra to make this gift more special!