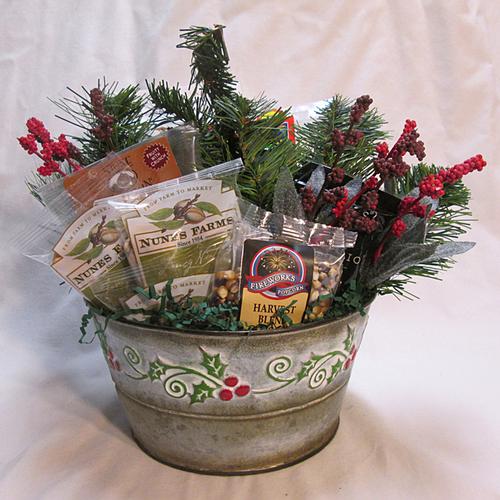 "Creative, responsive, pragmatic, price-sensitive, results-driven, unflappable. And a delight to work with. These are a lot of superlatives to describe any one person, but emphatically earned by Lise and her team at BasketWorks. Lise has crafted custom holiday baskets for my clients for a number of years and I cannot recommend her highly enough. Each year she outdoes herself. And she inevitably makes me look good. What more can you ask for?
Andrew S. Jacobs,CFP, Principal & Financial Advisor
Bernstein Private Wealth Management"
Healthy Holiday Gift Basket
Everyone knows someone who is trying to eat healthy. Send a basket replete with healthy holiday treats! These delicious delights won't break a diet and come packaged in a holly-bedecked metal container, accented with seasonal greenery. Included:
3 cashew packs
Fireworks popcorn
apple & banana chips
pineapple chunks
chocolate covered almonds
Cinnamon sugar pumpkin seeds

As Pictured: $50.00
---
Add something extra to make this gift more special!