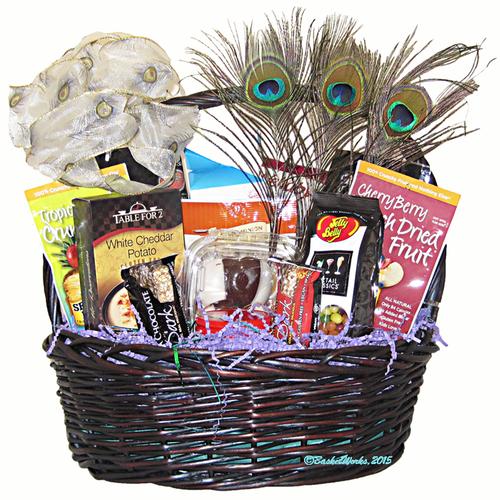 "Lise at BasketWorks, Inc. has been very creative at customizing gift baskets for our corporate clients. I highly recommend her products as I have always been pleased with the outcome.
Janie Markos, President Linguanational Translations, Inc"
Gluten Free Gourmet
This basket is overflowing with the best gluten free foods we can find, accented with peacock patterned ribbon and feathers. While the exact assortment will change based on availability and freshness, as pictured, this basket includes:
Gluten free cookies
Wellabies chips
Jelly Bellys
Nugo bars

Taffy
Onion relish
Wasabi peas
Edamame
Butter toffee peanuts
Sensible dried fruit
Wind & Willow dessert mix, pasta mix and soup mix

Peanut Brittle

As Pictured: $125.00
---
Add something extra to make this gift more special!