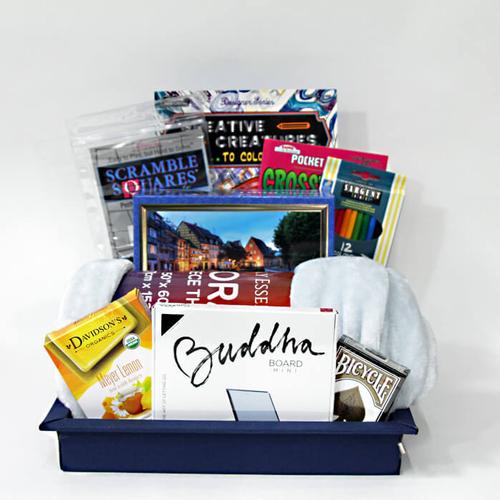 "When Lise stood up at the Northbrook Chamber meeting for some reason I got the impression that she could design a spectacular gift basket for one person or maybe a small group of people. Little did I know she has huge capabilities and loves orders of 2,000 baskets. And here's the thing -- tisket, a tasket every basket is a work of art filled with delights everyone loves.
I don't just love Basketworks; I lurve Basketworks.
Jim Ardito, President Ardito Creative Enterprises "
Chocolate, Cookies & Cuddles
What everyone wants for Valentine's Day - Chocolate, Cookies and Cuddles. As pictured this package includes a plush love bear, 6.5oz Truffles, Destrooper cookies, 3 Amore Cocoa packets and 2 chocolate coconut macaroons in a Hugs and Kisses gift box.

The small package includes a small heart bear, Chocolove chocolate bar, chocolate dipped popcorn, 2 chocolate coconut macaroons and 2 singlebrew coffee packages, in a small Hugs and Kisses gift box.

Valentine's Day packages will be delivered on February 12th or shipped via UPS.

As Pictured: $50.00