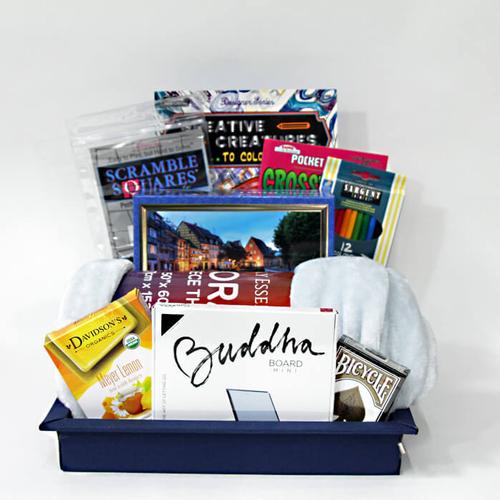 "Creative, responsive, pragmatic, price-sensitive, results-driven, unflappable. And a delight to work with. These are a lot of superlatives to describe any one person, but emphatically earned by Lise and her team at BasketWorks. Lise has crafted custom holiday baskets for my clients for a number of years and I cannot recommend her highly enough. Each year she outdoes herself. And she inevitably makes me look good. What more can you ask for?
Andrew S. Jacobs,CFP, Principal & Financial Advisor
Bernstein Private Wealth Management"
Chocolate, Cookies & Cuddles
What everyone wants for Valentine's Day - Chocolate, Cookies and Cuddles. As pictured this package includes a plush love bear, 6.5oz Truffles, Destrooper cookies, 3 Amore Cocoa packets and 2 chocolate coconut macaroons in a Hugs and Kisses gift box.

The small package includes a small heart bear, Chocolove chocolate bar, chocolate dipped popcorn, 2 chocolate coconut macaroons and 2 singlebrew coffee packages, in a small Hugs and Kisses gift box.

Valentine's Day packages will be delivered on February 12th or shipped via UPS.

As Pictured: $50.00