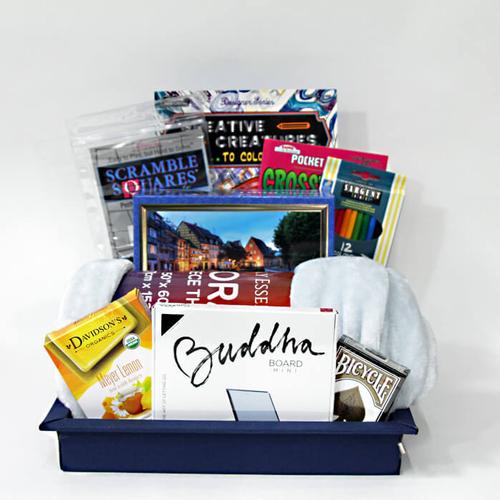 "The gift baskets are quite unique. I love the way you can personalize baskets. I was especially impressed when Lise responded to feedback and created a basket without sweets. This is why I order from them year after year.
Robin Ross"
Chocolate, Cookies & Cuddles
What everyone wants for Valentine's Day - Chocolate, Cookies and Cuddles. As pictured this package includes a plush love bear, 6.5oz Truffles, Destrooper cookies, 3 Amore Cocoa packets and 2 chocolate coconut macaroons in a Hugs and Kisses gift box.

The small package includes a small heart bear, Chocolove chocolate bar, chocolate dipped popcorn, 2 chocolate coconut macaroons and 2 singlebrew coffee packages, in a small Hugs and Kisses gift box.

Valentine's Day packages will be delivered on February 12th or shipped via UPS.

As Pictured: $50.00