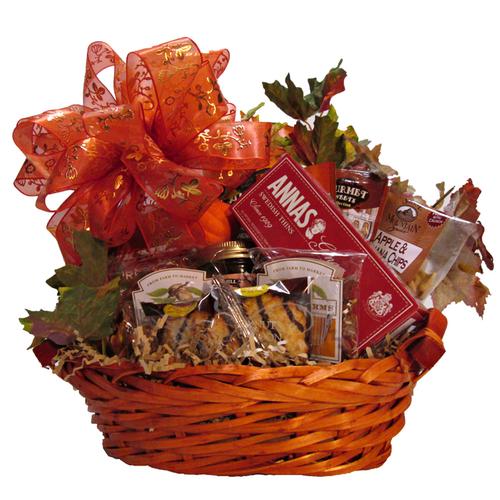 "It is my pleasure to wholeheartedly recommend BasketWorks. It has been an absolute joy to work with Lise for the last 2+ years to provide gift baskets for our new faculty members. We have always been completely satisfied. She does an excellent job, is always punctual (even with short notice) and provides baskets full of goodies at a phenomenal value. We look forward to a lasting relationship with BasketWorks!
Adrienne M. University of Chicago "
Passion for Pumpkin
Ginger, coconut, apple and of course, pumpkin make a fabulous fall medley of flavors in our Passion for Pumpkin basket. While we think this basket is great any time, it is a perfect Thanksgiving package! We build in a heavy weave burnt orange woven basket and include:
South Bend Chocolate pumpkin sandwich cookies
South Bend Chocolate white chocolate pumpkin pretzels
Pumpkin butter
Ginger cookies
Coconut macaroons
Spiced almonds
Cappuccino and

Dried apple and banana chips

As Pictured: $75.00
---
Add something extra to make this gift more special!