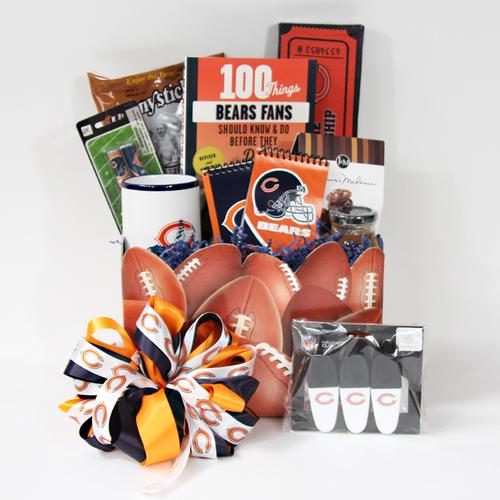 "Creative, responsive, pragmatic, price-sensitive, results-driven, unflappable. And a delight to work with. These are a lot of superlatives to describe any one person, but emphatically earned by Lise and her team at BasketWorks. Lise has crafted custom holiday baskets for my clients for a number of years and I cannot recommend her highly enough. Each year she outdoes herself. And she inevitably makes me look good. What more can you ask for?
Andrew S. Jacobs,CFP, Principal & Financial Advisor
Bernstein Private Wealth Management"
Four Quarters
Our Four Quarters football basket is full enough for four full quarters of snacking. We begin with a Chicago Bears mug and add sausage, cheese, nuts, popcorn and other game time snacks.

Our default Basket is the Chicago Bears, but this package is also available for the Green Bay Packers or in your fan's favorite team colors.

As Pictured: $50.00
---
Add something extra to make this gift more special!