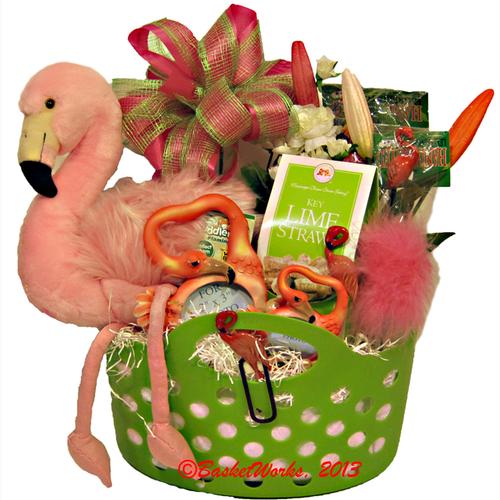 "We have worked with BasketWorks for 10 years. They have never disappointed. They are reliable, flexible when necessary, and scrupulously honest. Their final products are beautiful, and we are proud to put our name on them. No one could wish for a better partner.
The University of Chicago Celiac Disease Center "
Flamboyance of Flamingos
A group of geese is a gaggle, a group of owls is a wisdom, a group of flamingos is a flamboyance. This bright package includes a large plush flamingo, two different sizes of flamingo frames, a flamingo bookmark, shoehorn, hair brush and large clip. We add a fuzzy pink pen and key lime cookies. Larger packages include more tropic themed snacks and treats.

As Pictured: $35.00
---
Add something extra to make this gift more special!