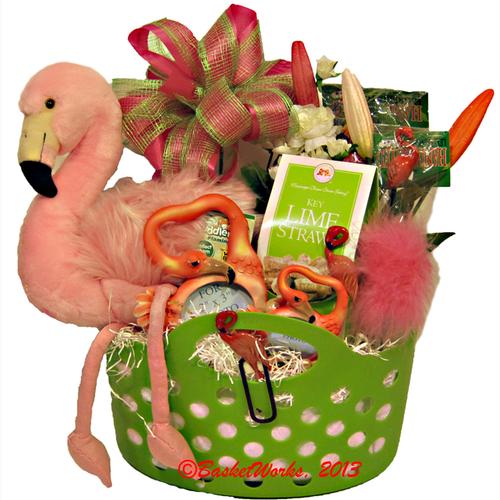 "BasketWorks and Lise are a pleasure to work with. I asked Lise to put together a basket for another company that I was doing some business with and I had no idea what I wanted, she asked me a couple of questions and then came up with something that was just perfect. Elegant, useful, and just right. The receiver was so surprised and so pleased. Thank you Lise and the whole team at BasketWorks.
Nancy A at MEA Cargo "
Flamboyance of Flamingos
A group of geese is a gaggle, a group of owls is a wisdom, a group of flamingos is a flamboyance. This bright package includes a large plush flamingo, two different sizes of flamingo frames, a flamingo bookmark, shoehorn, hair brush and large clip. We add a fuzzy pink pen and key lime cookies. Larger packages include more tropic themed snacks and treats.

As Pictured: $35.00
---
Add something extra to make this gift more special!