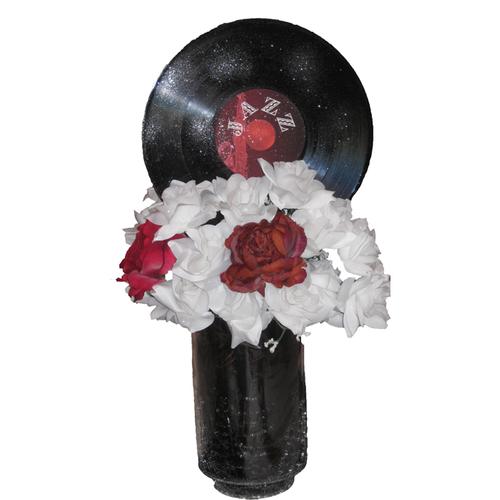 "When Lise stood up at the Northbrook Chamber meeting for some reason I got the impression that she could design a spectacular gift basket for one person or maybe a small group of people. Little did I know she has huge capabilities and loves orders of 2,000 baskets. And here's the thing -- tisket, a tasket every basket is a work of art filled with delights everyone loves.
I don't just love Basketworks; I lurve Basketworks.
Jim Ardito, President Ardito Creative Enterprises "
Records & Roses
For this simple, yet elegant design, the family found the vases and loved the crackled design. We lined them with black and added sparkling white silk roses and burgundy cabbage roses. Each table featured a different kind of music, displayed on the centered of the record.
This is not available for immediate delivery. Please call us to order.
As Pictured: $30.00