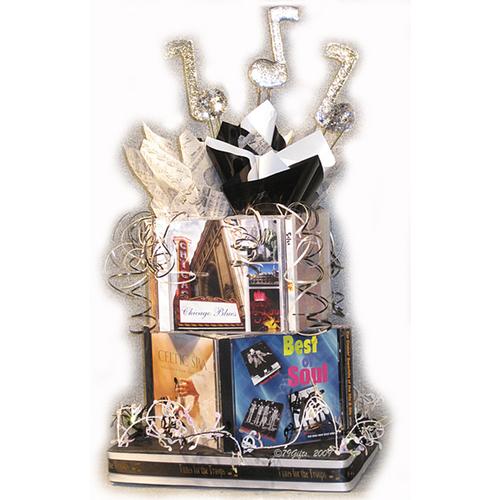 "We have worked with Lise several times and she always helps us come up with great, well-priced gifts for our clients and referral sources. The bonus is, Lise is wonderful to work with and always delivers on-time, on-budget. You can't go wrong using BasketWorks. Lise gets 5 stars from us.
Bob T, Senior Helpers "
Music Music Music Centerpiece
This Bar Mitzvah project was to collect cds to send to the military via the charity organization Tunes 4 the Troops. The family brought us several boxes of CDs. We added ribbon imprinted with the charity logo, music theme garland and accents and arranged the cds on styrofoam bases for a simple yet fun centerpiece. After the event, all the cds were sent to the charity.
This is not available for immediate delivery. Please call us to order.
As Pictured: $25.00